Main content starts here, tab to start navigating
Seasonal Apothecary, Pantry & Goods
All things Alma.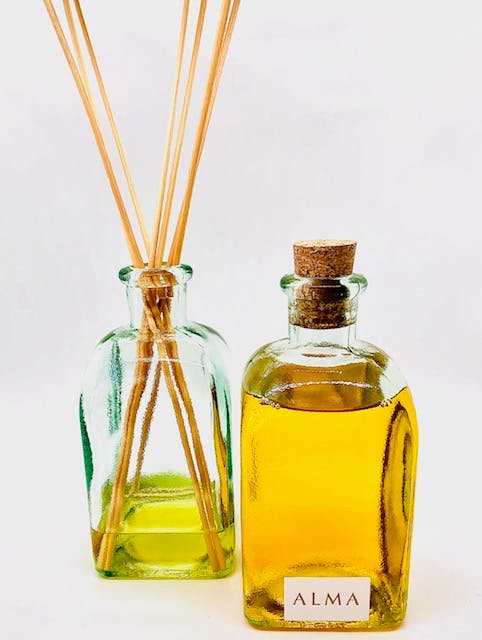 SUMMER APOTHECARY 50% OFF
FALL LINE COMING 9/22!
This summer season, our signature scent celebrates all things summertime; joy, sunshine, warmth and nature's abundance of flowers, herbs and fruits in their ripest form.
Sweet and spicy coriander, rich and exotic chamomile, crisp and refreshing may chang & grapefruit are combined to create a pleasant and uplifting scent profile. These essential oils are also known to be beneficial for healthy hair and skin.
Our mission is to always be mindful of offering eco friendly products. Sourcing American made, local, recyclable and reusable whenever possible.
Online ordering and pick up only available during hours of operation
∞
Bath Soak

Mineral salts of dead sea & epsom infused with the Alma signature seasonal scent, organic coconut oil and dried lemongrass for cleansing and detoxing skin (10oz).

$16

Hand Sanitizer

70% grain alcohol from a local distillery infused with organic coconut oil, glycerin, aloe vera, floral waters and therapeutic grade essential oils (3oz).

$5

Shea & Birch Bar Soap

Shea butter bar soap with organic birch bark powder in a natural fiber exfoliating bag to cleanse & detox skin. Fortified with cedarwood and argan oil to brighten & clear skin. Exfoliating bag made from natural ramie, good for producing foam and lather and releasing the aromas of the soap for your enjoyment (3oz).

$9

Liquid Hand Soap

A silky and moisturizing organic castile and aloe vera soap (8oz).

$12

Shampoo & Body Wash

Organic aloe vera leaf based soap infused with healing oils of argan, rosehip seed and hemp (12oz).

$12

Botanical Mist

A naturally hydrating and uplifting mist made with floral waters, vodka, aloe vera juice, witch hazel. For face, body, air and pillow (2oz).

$12

Glow Body Oil

Nourishing body oil made with apricot, organic moroccan argan oil, organic rosehip seed, hemp, sesame and organic coconut oil and gold mica to smooth and moisturize skin (2oz).

$14

Roll On Perfume Oil

Alma signature seasonal scent in organic fractionated coconut oil (10ml).

$16

Quartz Point

Known as the supreme gift of mother earth, soothing & purifying quartz point aids in concentration, unlocks memory & brings the body into balance. use this purifying crystal to help guide your energy towards good intentions

$5

Essential Oil Blend

A warm and uplifting blend of our pure essential oil blend. Add a few drops to a diffuser, warm bath, massage oil or your favorite carrier oil to make a pleasant perfume (.5oz).

$18

Candle - Glass Vessel

Hand poured luxurious vegan coconut & apricot wax candle with a wooden wick in a soft matte sage vessel. Blended with signature seasonal scent and a natural fragrance oil (12oz).

$34

Reed Diffuser

Signature seasonal scent in a natural diffuser base with wooden reeds (8oz).

$38

Bamboo Incense

Encased in natural tree powder and hand dipped in pure essential oils and natural fragrance (20 pcs).

$14
Available for purchase/pickup only during hours of operation. Visit the Cafe for product display or shop online at the bottom of our online ordering page
Alma is a no tipping operation. We add a 18% wellness surcharge to all purchases to support fair wages and benefits. Pursuant to Minnesota Statute Section 177.23 subdivision 9, this service charge is not a gratuity for employee service.